SamuraiMoose
8

April 20th, 2008 + 7:04 PM
·

SamuraiMoose
Avelina (Song Through Closed Eyes) by James Iarocci

I finished writing the song last August, and only got around to recording it over April 1st and 2nd. I performed all tracks on this recording. Lyrics as follows:

If I looked where I'm going, what would I see
Beside the tiny victim of some sidewalking tragedy?
I never would have placed my shoe
In quite the spot it landed there
If I had known what it would do
An accidental sin to bear
But if I never look from hence
I'll walk here free of consequence
Could I blame myself not seeing here who dies
With my never opened eyes?

I have seen all that I ever mean to see
Of all my senses, I ask from this one to be free
Should I forget why, I'll be safe and never know
How it all looked, and how it pained me then to go
Seemed I hardly said hello

If I looked into your eyes, what would I see
Beside the shattered remnants of the one who reflected me?
As I had followed where you'd gone
You plunged into the ocean deep
Mistaking this for moving on
I put a broken heart to sleep
But if you are, within your dream,
As much like me as it would seem
We'll go on with no more regretful sighs
With our never opened eyes
3

October 13th, 2007 + 2:10 PM
·

SamuraiMoose
Drawing January by James Iarocci

Perfomed by Jovian Flame:
James Iarocci - vocals, bass
John Neiss - guitar, drums
Zach Marzec - keyboard

Recorded and produced by Bradley Burr

Separated in the light somehow,
I navigated the darkness, now I'm lost in the day
I liked it when I was blinder then,
Always taking a left turn when I can't find my way
Waiting for the anything to come
Tired of emptiness and boredom from the nothing in sight
I said 'your kind is bad luck to me'
Staring down this Christmas tree on New Years' Day night

Say it in the way that you best know how
A thousand words of value this page endow
My sense of my direction it fails me
Time and again and again and it's time to go back
To the place where the dream appeared and vanished
So rapidly I wonder if it truly was
Or if the flash of disappointment before my eyes
Were just that
But I'd take it back

Sat for hours in a rocking chair
Just looking, smiling, and talking where the minute hands fly
Acceleration of the time like this
A likely cause to how I'd ever miss you tiptoeing by

It was lost on me
I'm as clueless as you
Assuming that you are clueless too

Draw me the sky, draw me a cloud
Draw me a tree, draw me a sparrow
Draw me a how, draw me a why
Draw me a map, draw me an arrow
If you would please, direct me
To the place with the black caterpillar
Which was stained just as well
On my mind as on my pillow

Standing up with a relenting sigh
I undecided so quickly I can't tell quite how far
I only hear about you secondhand
I'm January the second and know not where you are

If you would please, direct me
To the place with the black caterpillar
Which was stained just as well
On my mind as the back of my hand
All the places we went when we
Truly never went anywhere
All the things that we did when we
Truly never did anything
All the memories we made when I
Truly can't remember a thing
All the words that we said
That we won't be saying forever
5

July 29th, 2006 + 1:07 PM
·

SamuraiMoose
This is the better one.

I recorded the vocals over and undid the mess I made in the first mix where I eliminated any stereo elements it ever had by placing the two separate files for each side panned straight down the centre.

That is all. Lyrics posted with the first version, listen and notice the difference!

Meh, it's good by my standards.
8

July 27th, 2006 + 6:07 AM
·

SamuraiMoose
'Phenylketonuria' by J.S. Iarocci, 2005
Recorded mostly on July 26th, 2006
Just me with a piano, bass, guitar, and drum machine

I haven't decided how much I mind my voice sounding about forty years older than I am - partially an intentional effect, partially the result of lengthy daily musical rehearsals leaving me with little to no voice at the end of the day. Depending on this I may well re-record the vocal track straight away.

Lyrics, while I'm here:

The darkening of the gilded soul
The hornet's transformation
The torture is the natural
Arcane precipitation
I reach I fall I cough I kneel
I ask and no one listens
How well I am how sick I feel
The truth from nowhere glistens
Can't you see?
The pain that alters me
Precedes heredity
It can pierce right through
From me to Timbuktu

A sheet like glass or cellophane
Elastic as it lessens
Evacuate the portal vein
Endorse the framework essence
Dismantled now this voice my shield
My everything that mattered
Unseen unheard unfelt I yield
Another piece is shattered
Oh can't you see?
My greatest enemy
Is my transparency
You can see right through
From me to Timbuktu
Away with your phenylalanine
Relent for it's all the difference mine
Condemn diet soda aspartame
In the end I won't even know my name

A past apart I'm trapped within
A door without a handle
Repayment for my mortal sin
To strike and snuff the candle
Succeed to override my goals
Japan to my Manchuria
Consume me and become my soul's
Phenylketonuria
Can't you see?
My acts of gallantry
Stem from complacency
They're as plain as you
Or me or Timbuktu
Away with your phenylalanine
Relent for it's all the difference mine
Condemn diet soda aspartame
In the end we are given all the same
3

July 14th, 2006 + 5:07 AM
·

SamuraiMoose
The musical tessellation is something I think I came up with, and if it's been done before, I wasn't aware of it. It simply means that after every seventh note in the melody, each note in whichever scale it happens to be in has been used exactly once.

Not the greatest recording, but I'm borrowing this awesome piano and kind of want to do as much as I can with it before I must return it. Hence it was all assembled rather hastily. But I think I simply don't have the patience for meticulous assembly - ever notice that? I always excuse my pieces as being hurriedly put together. I should just hire a personal sound engineer.
Alias:
SamuraiMoose

Status: Offline
Threads:
10
Posts:
39
Songs:
8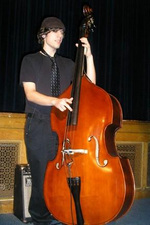 Joined: June 14th, 2005
Last login: September 27th, 2016
My Messengers
| | |
| --- | --- |
| AIM: | n/a |
| ICQ: | n/a |
| Skype: | n/a |